In questo articolo andremo a illustrare tutto il processo di upgrade di un ambiente vSan partendo da vSphere 6.7 e arrivando ad un environment interamente gestito da vSphere 7.0u3
L'upgrade si divide in tre parti:
Upgrade di vCenter (sempre upgrade di vCenter prima di qualsiasi altra cosa!.. è come un mantra 😀 )
Upgrade di ESXi Hosts
Upgrade della versione dei dischi
Upgrade di vCenter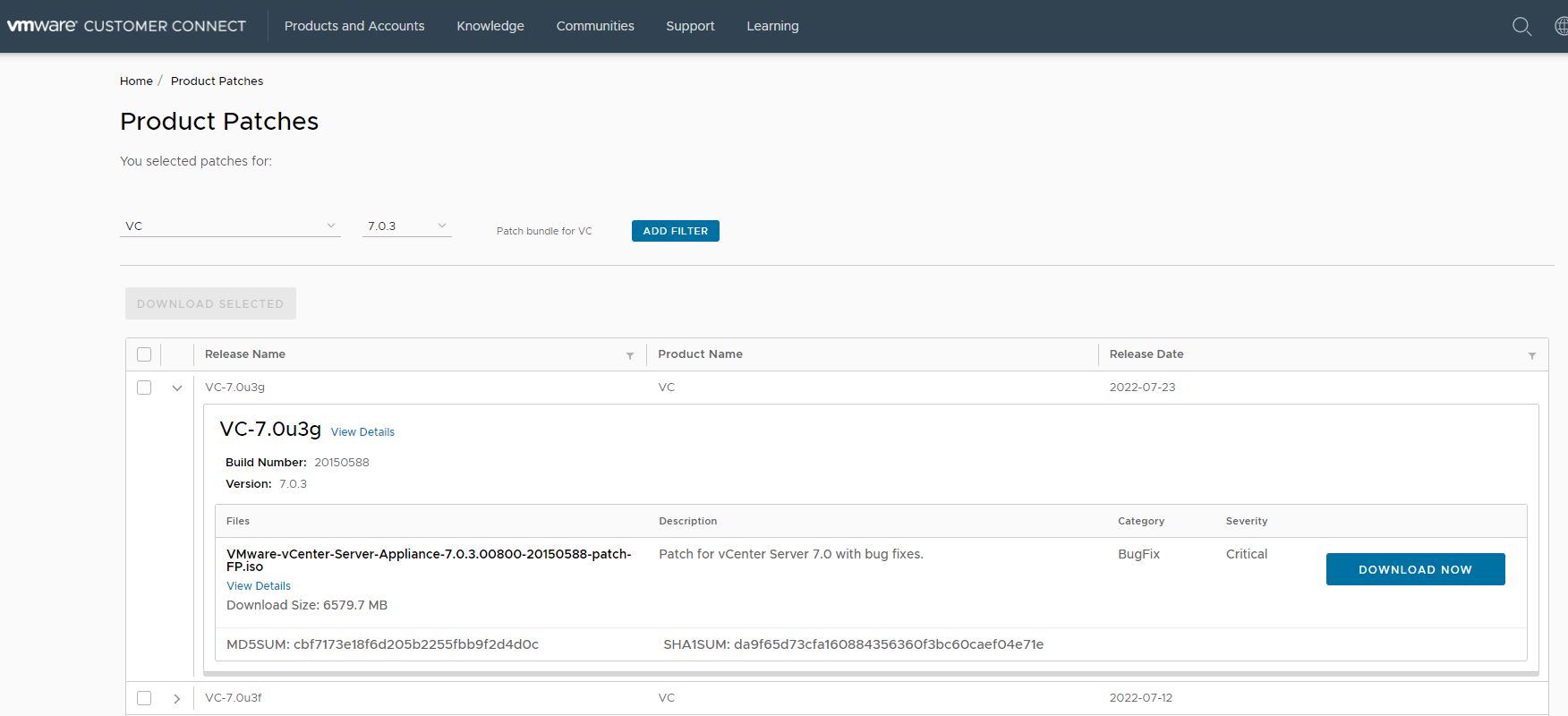 inserirla del drive della VM vCenter, entrare in ssh e montarla con #mount /dev/cdrom /mnt/cdrom  

(nel mio ambiente di test, ho caricato la ISO nella VM vCenter ospitata su VMware Workstation 16.2)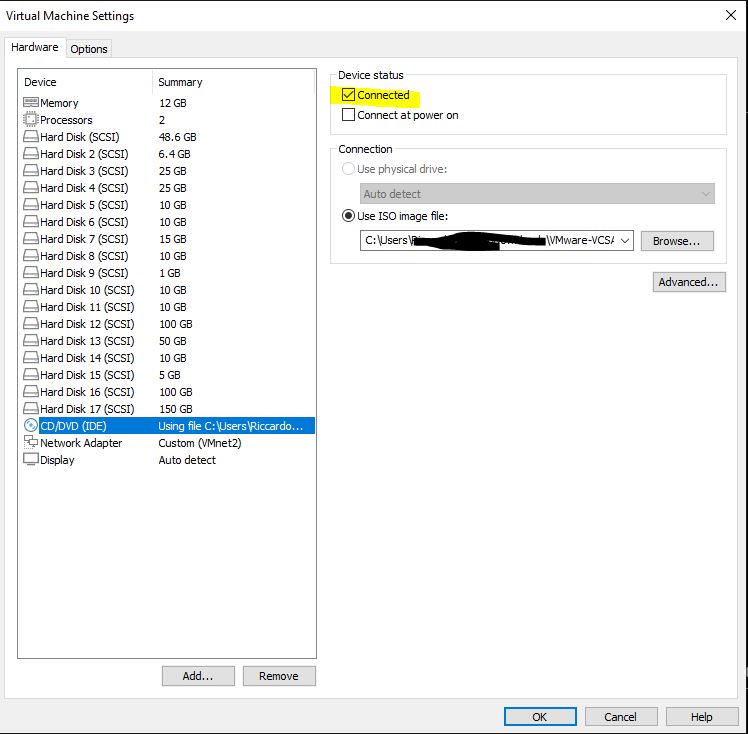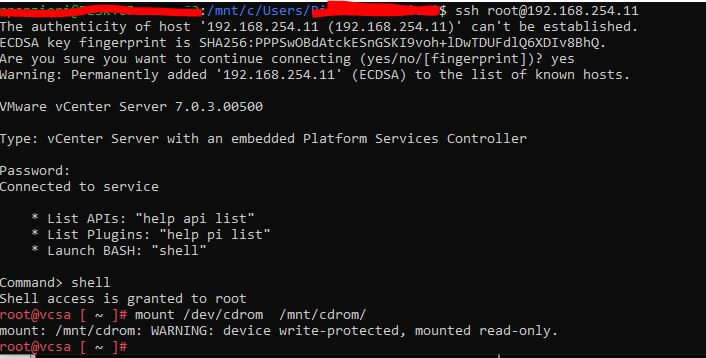 Entrare nella VAMI di vCenter (https://FQDN_VCENTER:5480) con le credenziali di root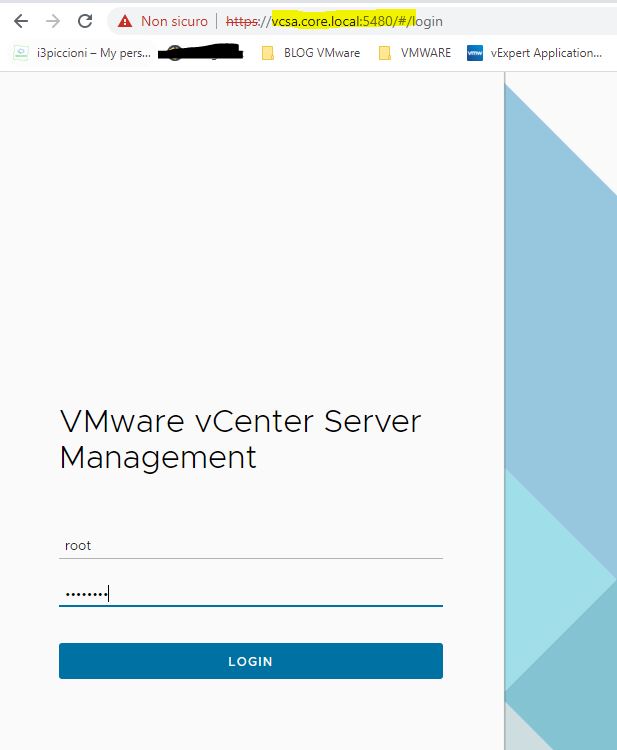 Nella sezione Update, selezionare Check Update e successivamente, una volta che sono presenti degli update disponibili, cliccare su Stage and Install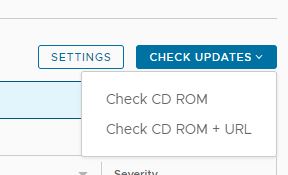 Accettare l'EULA e cliccare su Next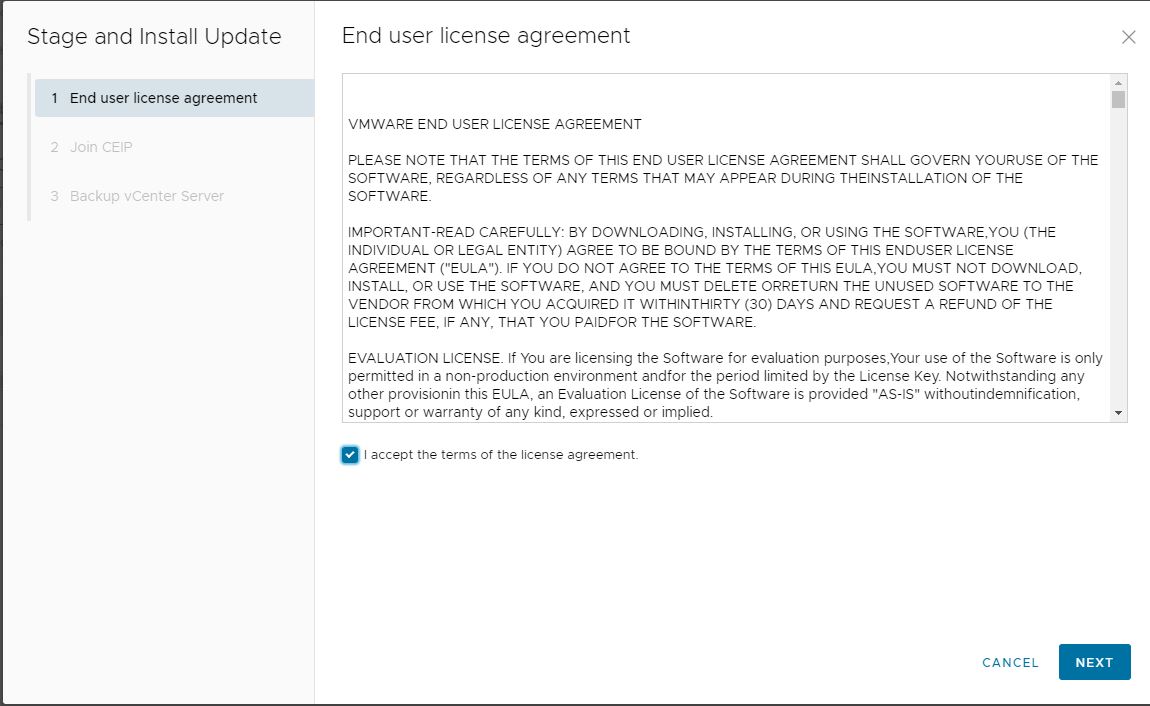 Accettare o no il CEIP e cliccare su Next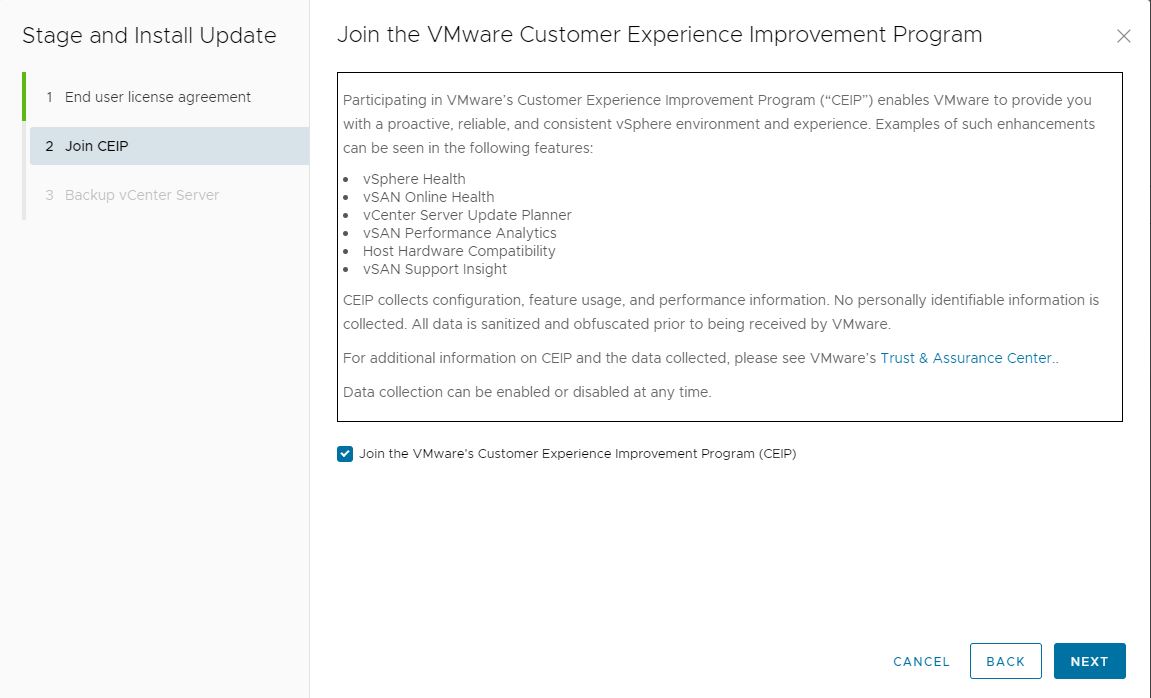 Spuntare "I have backed up vCenter and its associated databases" (dovremmo averlo già fatto prima di iniziare) e cliccare su Finish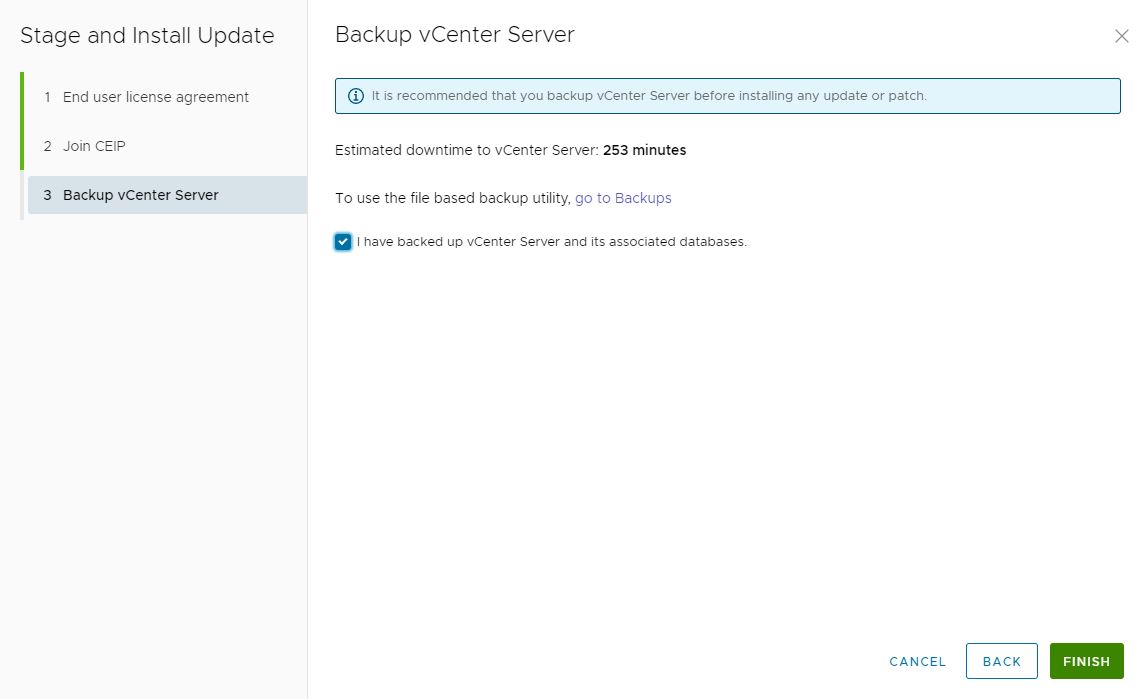 Attendere il termine dell'installazione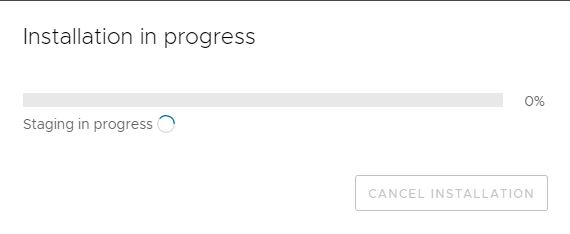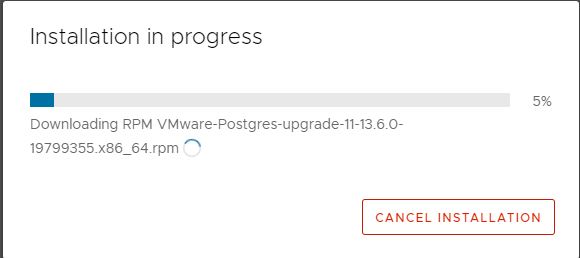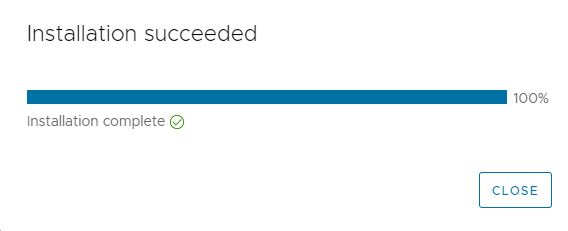 Riaccedere alla VAMI del vCenter per verificare la versione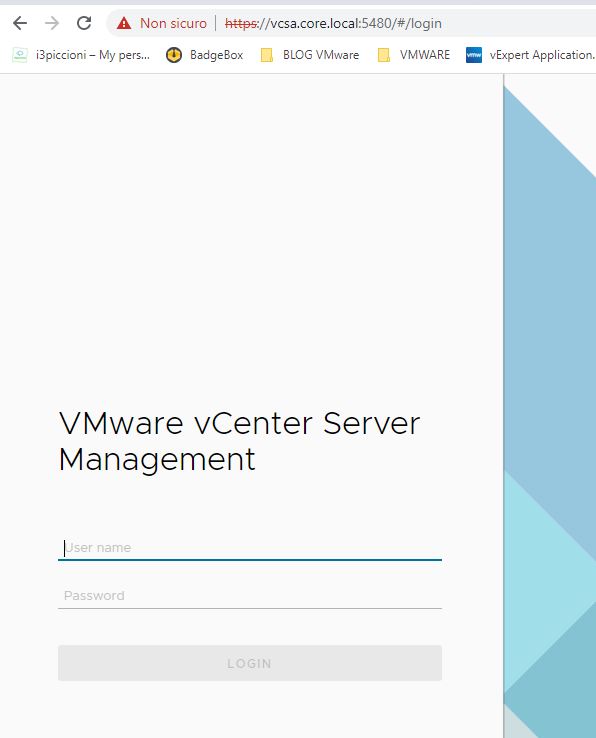 Smontare il disco da ssh e togliere la ISO

ESXi Upgrade
Una volta effettuato l'upgrade di vCenter andremo a effettuare l'upgrade di tutti i nodi.
Ne illustrerò uno solo. La procedura va effettuata per tutti.
Durante la procedura di update dei nodi ci saranno alcuni alert lato vSan. E' normale in quanto in questa fase ci saranno delle eterogeneità nell'ambiente.
Andiamo su Lifecycle Manager

Carichiamo la ISO di ESXi Imported ISOs –> IMPORT ISO

Cercarla con Browse e poi cliccare su Import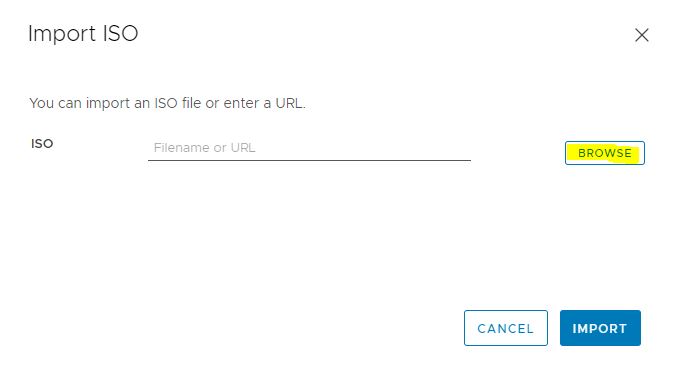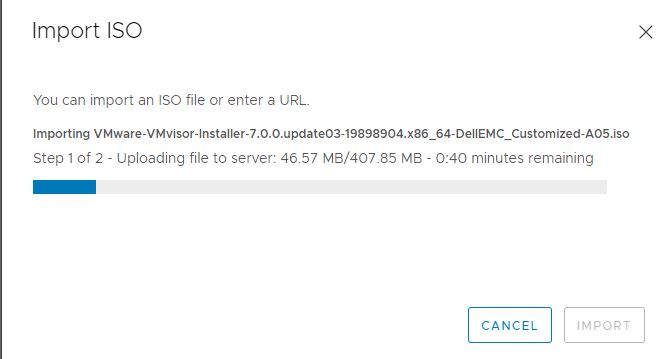 Creare la Baseline cliccando su New Baseline e seguendo il wizard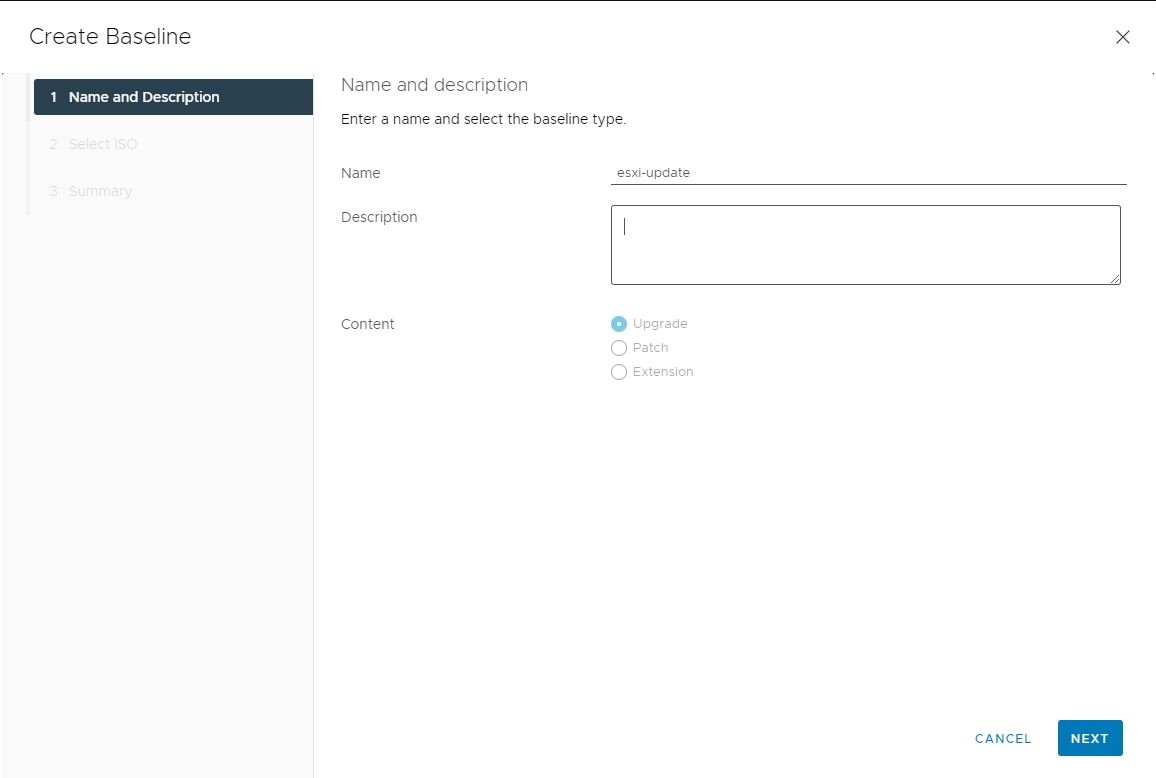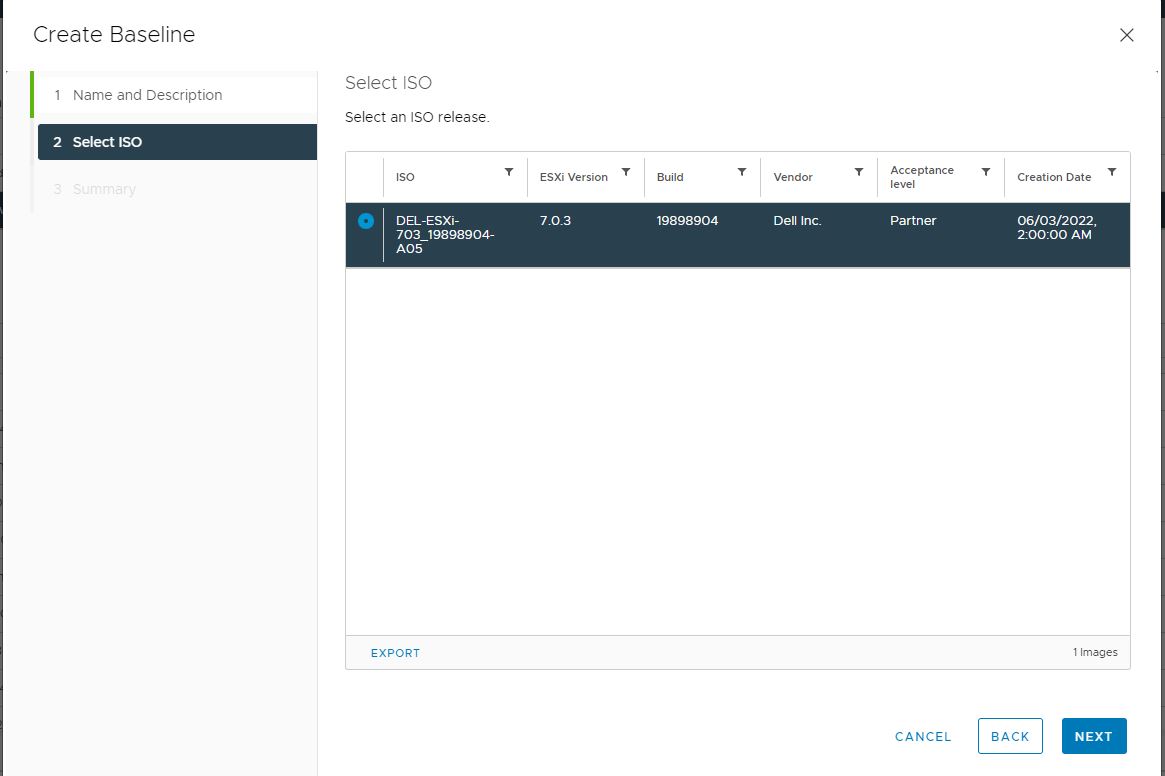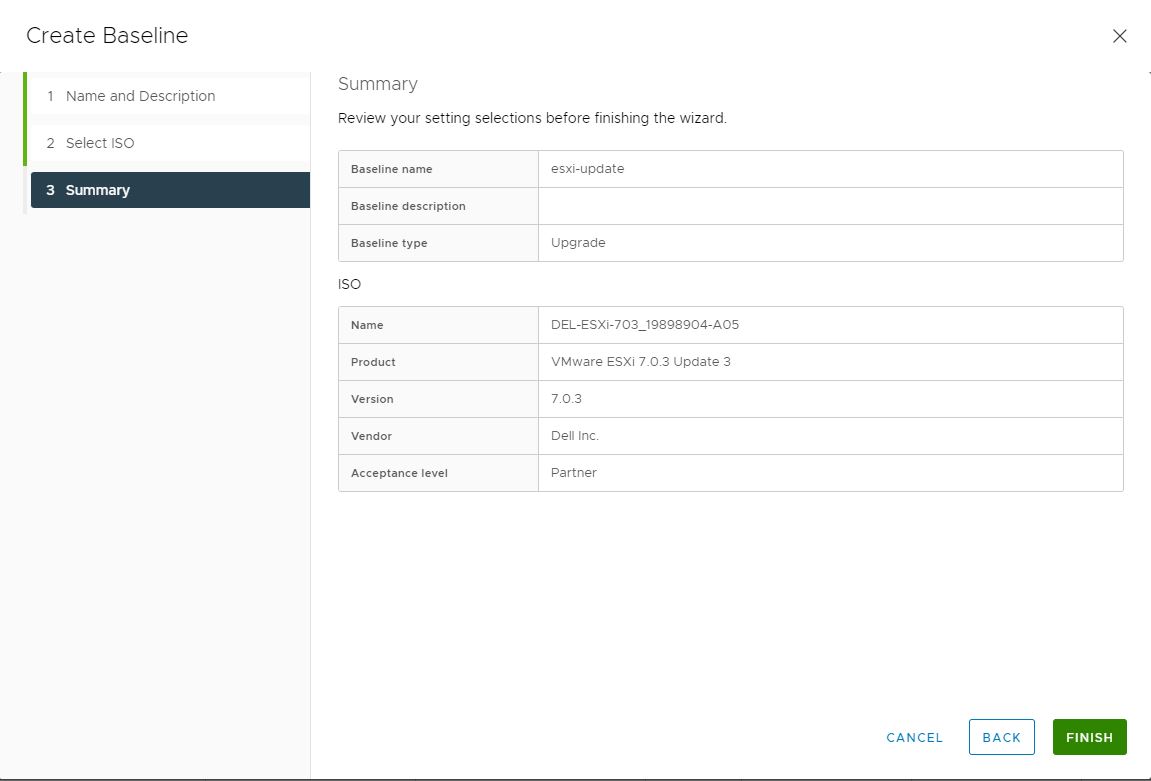 E' preferibile mettere in nodo in maintenance mode (lo metterà in automatico quando faremo la remediation)
Selezionare il nodo e andare sul tab Updates

In Updates cliccare su Attach e successivamente su Attach Baseline or Baseline Group

Selezionare la nuova baseline creata e cliccare su Attach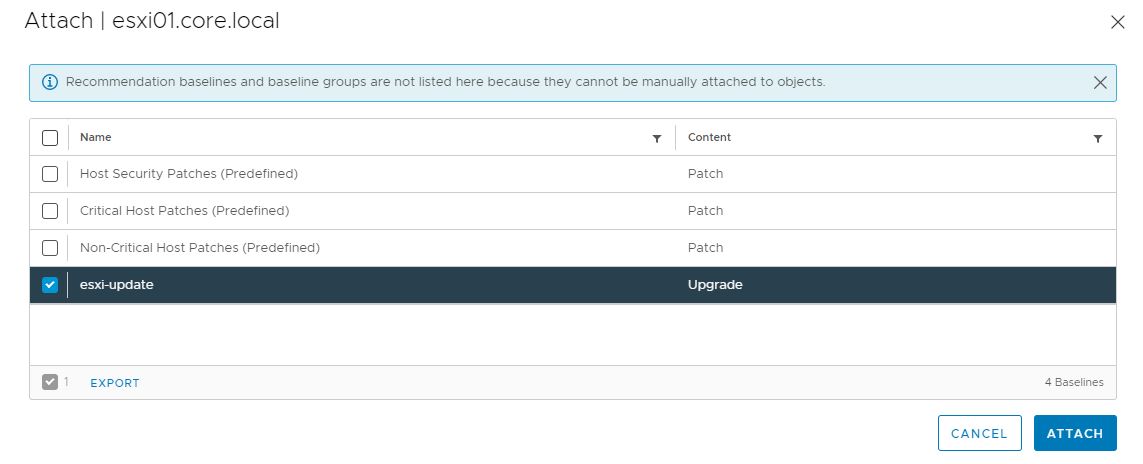 Selezionare la baseline e cliccare su Remediate

Accettare l'EULA e successivamente cliccare su Remediate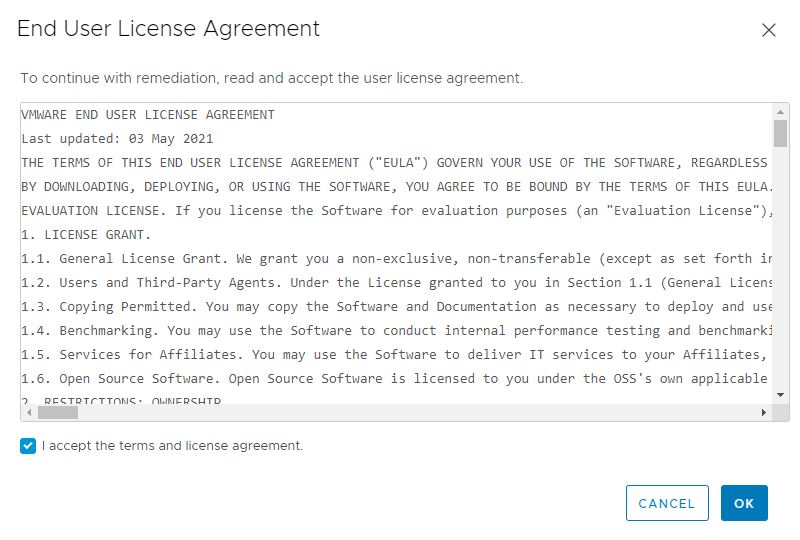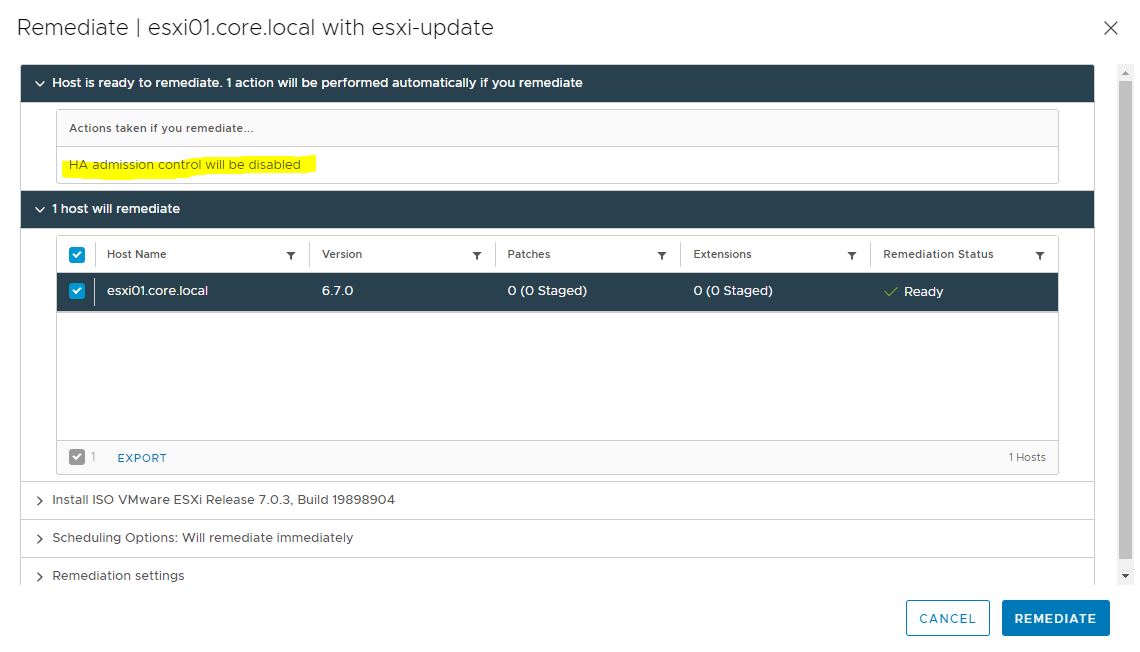 Il processo installerà gli update e riavvierà l'host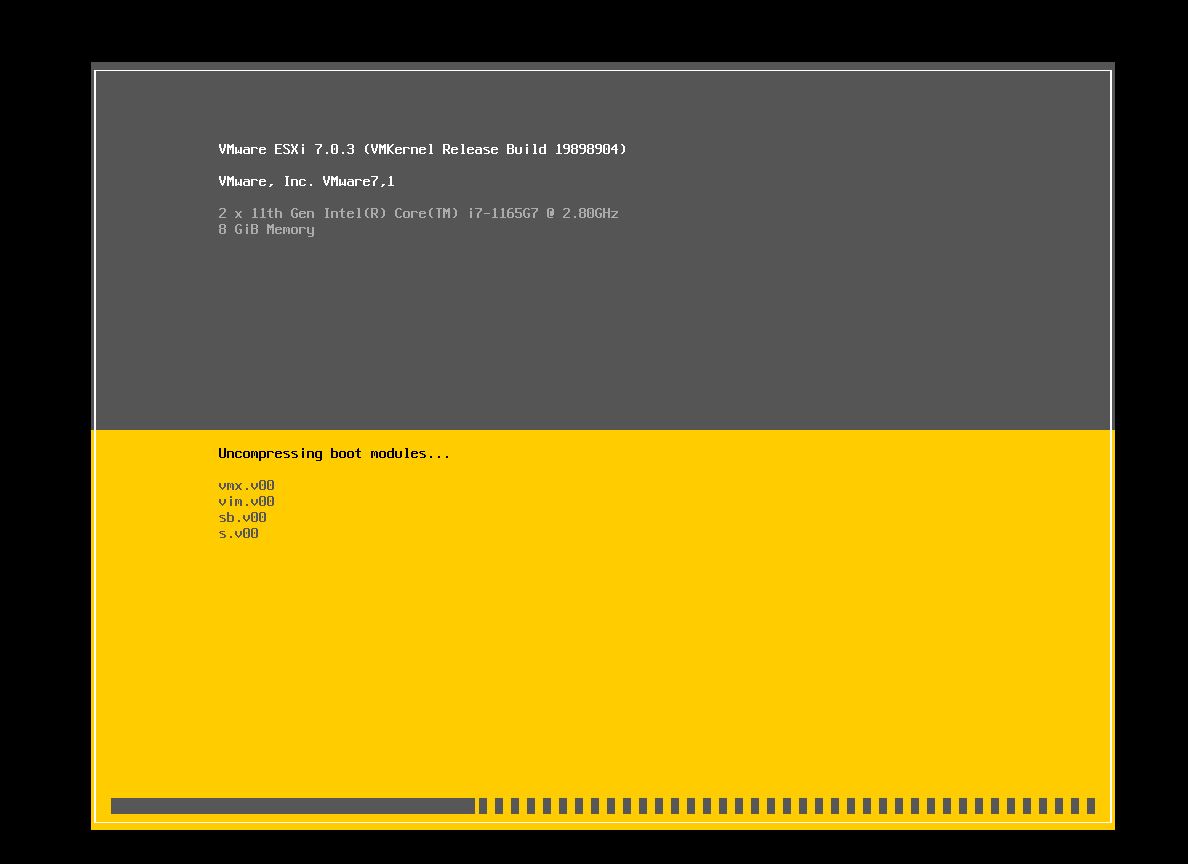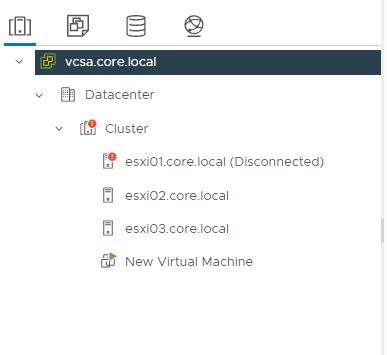 Effettuare questa procedura per i restanti host
Upgrade vSAN Disk Version
Al termine dell'upgrade di tutti gli ESXi, vSAN, in teoria è gia all'ultima versione.
Andremo quindi ad aggiornare il disk version. In pratica verrà ricreato il disk group dentro ogni Fault Domain. Il processo sarà automatico e quindi vedremo lo spazio disco di vsandatastore che calerà e riprenderà il suo spazio sistematicamente.
Cliccare sul cluster –> Configure –> vSAN –> Disk Management

cliccare su Pre-Check Upgrade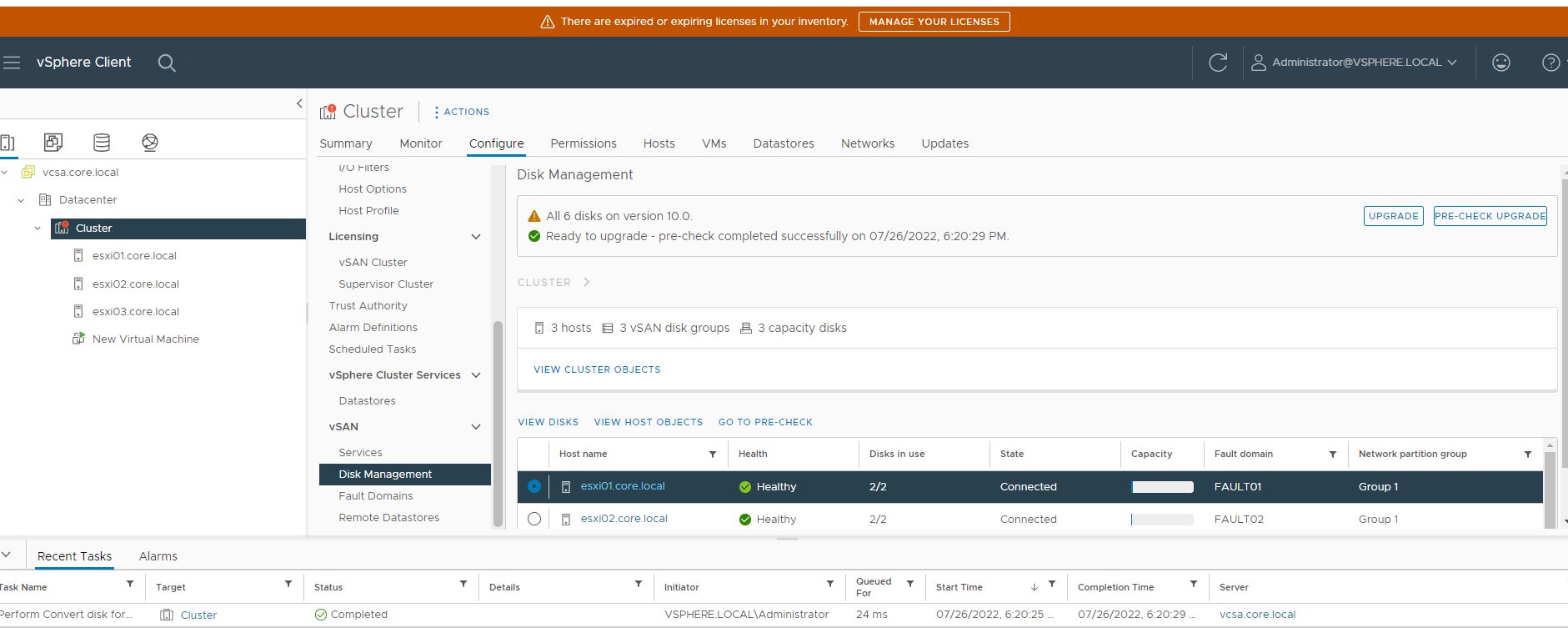 Cliccando su Upgrade e successivamente su Upgrade di nuovo inizierà il processo di update della versione dei dischi.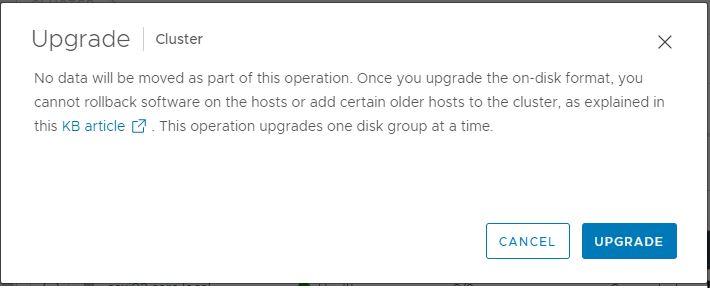 Effettuare il re-label degli oggetti. Attenzione: l'operazione porterà via diverse ore con allarmi e riduzione spazio vsan (da non tenerne conto)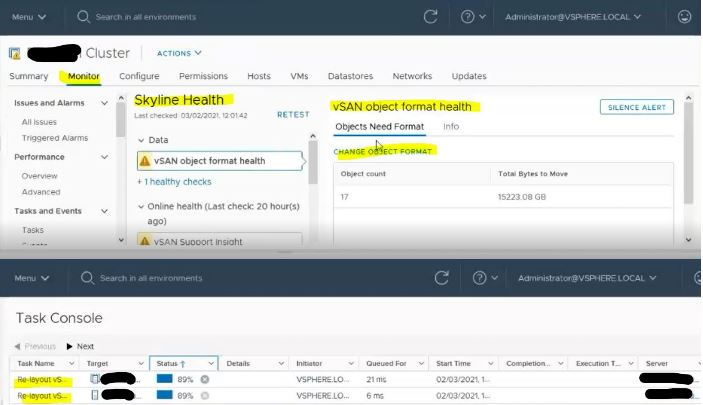 vSAN è ora completamente aggiornata
Se lo si desidera, fare l'update anche dei Distributed Virtual Switch, dalla versione 6.6.0 alla 7.0.3
Enjoy 🙂